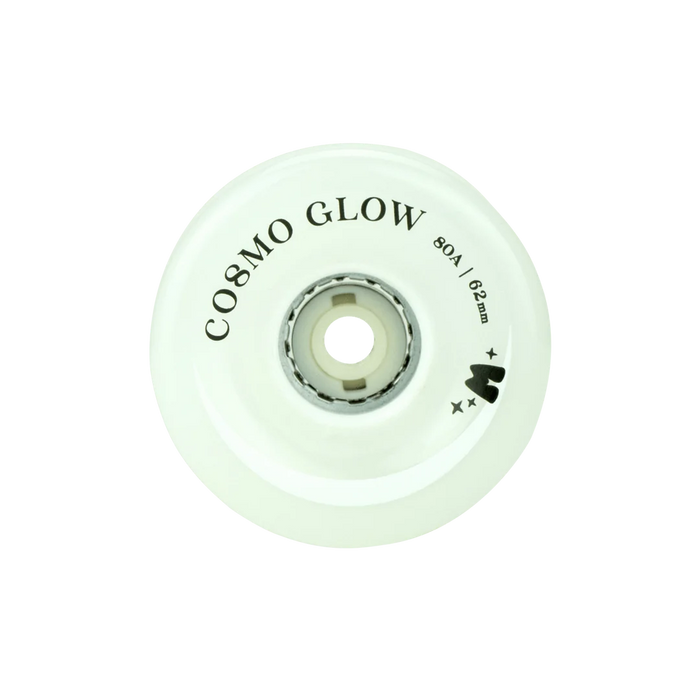 Moxi Cosmo Glow Wheels (4-Pack)
Sold out
Original price
$39.00
-
Original price
$39.00
Cosmo Glow Wheels are the first LED light-up roller skate wheels specifically made to fit quad skate axles! The smooth rolling 80A outdoor wheels will glide over rough surfaces and are perfectly designed to highlight and illuminate your standout moves to any passersby. Cosmo Glow wheels help keep you safe and noticeable while skating in the dark.

Sized at 62mm in diameter, the Cosmo Glow wheels light up in three cosmic color combinations: White Rain Glow with multicolored lights inside a white opaque wheel, Purple Haze with blue lights inside a lavender wheel, and Galaxy Green with blue lights inside a seafoam wheel.
These wheels are human-powered, no batteries are required as the floating, magnetic spacer powers the wheel's core to illuminate as you skate. All you need to do is roll and your color-changing wheels will light up as you skate!
FEATURES:
- Floating magnetic spacer that sits between the bearings and powers the lights inside the wheels as they spin on the axles
- Recommended use: Outdoor
- Size: 62mm x 32mm
- Hardness: 80A
* Disclaimer: Bearings are not included with Moxi Cosmo Glow Wheels
SOLD IN PACKS OF 4
*PLEASE NOTE THESE WHEELS ARE NOT COMPATIBLE WITH MOXI LOLLY SKATES*