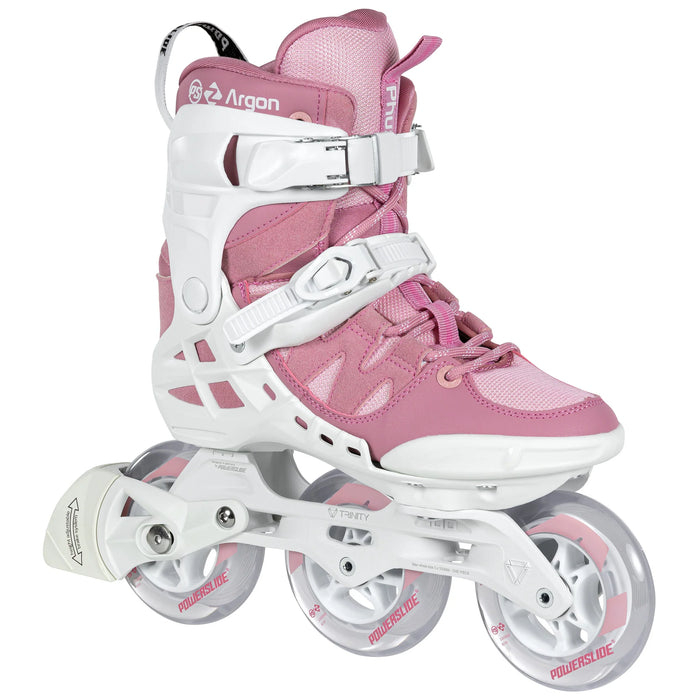 Powerslide Phuzion Argon Rose 100
Sold out
Original price
$225.99
-
Original price
$225.99
Powerslide Phuzion Argon 100 Rose - Dare to be bold. The Powerslide Phuzion Argon skate has redefined Sportstyle with a bold silhouette, great comfort and outstanding performance. Only the best materials for the skate, inside and out, from nubuck to high grade PU-leather for the upper and Recall Memory foam padding for the inside, with ultimate comfort and custom fit. The extra 45° ratchet buckle provides precise heel lock and enhances every stride optimizing power transfer thanks to the patented Trinity X mounting. This system improves stability and makes skating easier to control with a better roll and less vibration. Along with a stiff and lightweight Triskate aluminum frame and fast and long lasting 100mm wheels and high grade Wicked bearings this skates offers it all. Safety is added with the well known HABS. The Argon Rose rides and feels as good as it looks. In the mood for Phuzion.
 FEATURES:
- Boot Overview: Softboot; TRINITY X 3-point mounting; fixed liner with MYFIT Recall memory fit; not heat moldable
- Frame Overview: Powerslide Elite; ADC10 aluminum; TRINITY 3-point mounting; 9.1" (231mm); 3x100mm
- Wheel Overview: Powerslide Phuzion; 100mm / 83A; HR= High Rebound, Cruising Comfort
- Bearing Overview: Wicked; ABEC 7; chrome steel balls; carbon steel raceways
- Brake Compatibility: HABS Brake S/M
PLEASE MEASURE YOUR FEET BEFORE YOU PLACE YOUR ORDER. ALL SKATE SIZING CHARTS ARE DIFFERENT AND MOST SKATE SIZING DOES NOT ALIGN WITH STANDARD US SHOE SIZING. EXCHANGES AND RETURNS ARE NOT FREE.