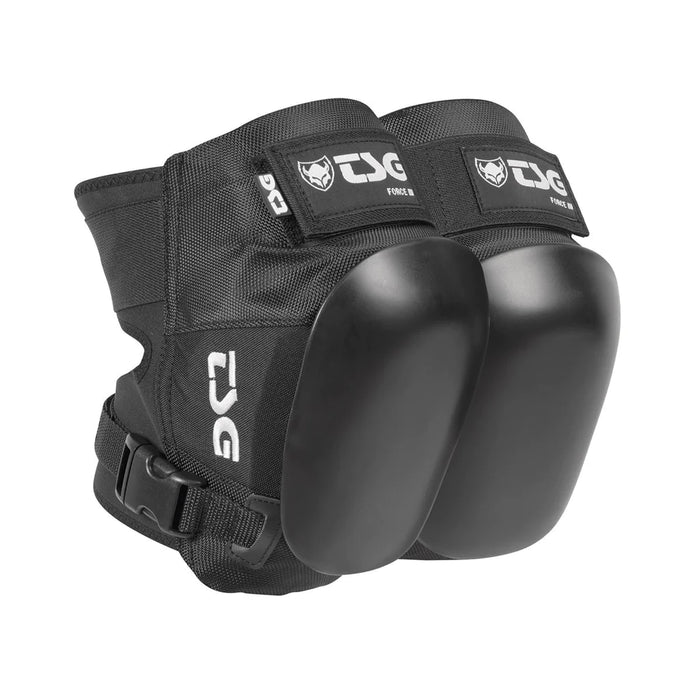 TSG -Force III Kneepad
Original price
$109.95
-
Original price
$109.95
TSG Force III knee pads offer incredible knee protection, perfect for professionals as well as amateurs alike. Skaters can focus on their performance without worrying about the cuts and scrapes on the rink. Skaters will enjoy stress relief from the extra reinforcement at critical pressure points. Comfortable fabric lining adds to all-day wearing comfort.
TSG's hardshell construction uses sturdy hard shells for protection from abrasions, crashes, and falls. Cushiony protection from multiple layers of soft EVA foam dampens impact forces before reaching the body. Tear-resistant nylon construction with replaceable hardshell PE cap will stand up to the rigors of skateboarding rinks.
TSG's unique horseshoe design provides wider coverage and protection around the knees. The pre-shaped design follows the body's natural shape to align comfortably and stay low without interfering with the player's movements. Knee caps have high-end 360° straps that wrap around the whole limb for a secure and comfortable fit.
Bottom velcro strap has an easy snap buckle for ease of use. Versatile open-back design with neoprene butterfly straps, allow the pads to be put on and taken off without removing shoes. This also helps with a comfortable fit for different leg sizes.
TSG kneepads offer incredible quality surpassing international safety standards such as EN 14120:2003+A1:2007 Level 2 - European standard for skateboard protectors. Designed in Switzerland, TSG products are tested by a passionate internal team of riders and certified by independent lab testing.