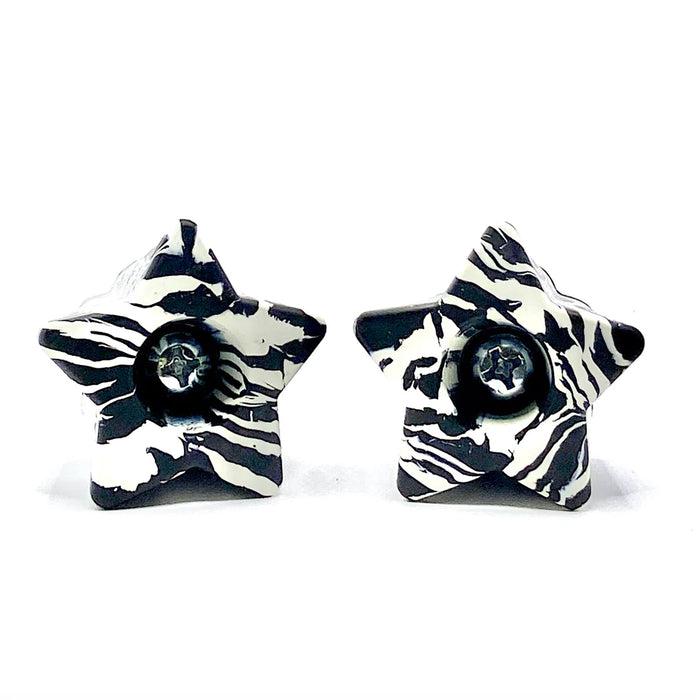 Twinkle Toes Star Bolt-On Toe Stops - Multiple Colors - (5/16)
Original price
$25.00
-
Original price
$27.00
RollerStuff really out-did themselves with the Twinkle Toes Star Bolt-On Toe Stops! Available in multiple colors, anyone with a 5/16" bolt-on style toe stop can now enjoy style and practicality!
FEATURES:
- Material: Formulated from a natural rubber compound designed for high level performance on various surfaces. High abrasion resistance contributes to a longer lasting toe stop.
- Design: This first-of-its-kind, unique star-shape is a 100% original design - the initial sample mold was hand-sculpted by Abbey Roadkill out of clay.
CONTACT PATCH: Slightly raised contact patch (middle of star): strongest and thickest part of the toe stop, as well as the area intended to make first contact with the ground during use

 

TAPERED POINTS: Each point is tapered off 2-3mm from inside to outside edges/towards tip ends, positioning the more vulnerable parts of the shape higher from the ground and pointed away from contact patch in center.
COMPATIBILITY: The bolt-on style toe stop (with the hole in the middle, as shown in images), is

 

only

 

compatible with skates/plates with a bolt-on toe stop design. *This includes Impala Roller Skates, C7 skates, Angel Skates, IB Skates, etc.
Suggested care/upkeep: "Grease is the word" We all know how the song goes…and just like the lyrics say, it is always best to lightly grease the stems of your toe stops before screwing them into your skate's plate. This dramatically helps to prevent cross threading as well as the possibility of the toe stop getting stuck in the plate if jammed over time. 
NOT INCLUDED: 2, 5/16" bolts
SOLD IN PAIRS