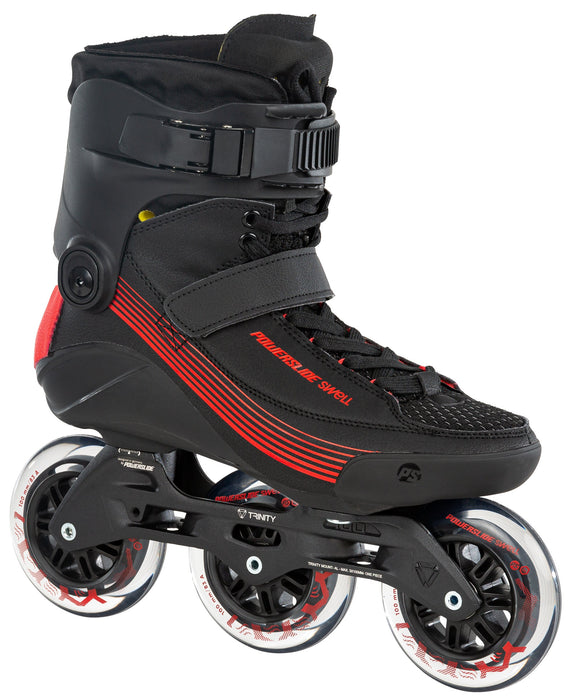 Powerslide Swell Black 100 3D Adapt
Original price
$339.99
-
Original price
$339.99
The Powerslide Swell Black 100 3D Adapt is a high-performance fitness skate that will boost your training sessions and let you discover what you're really capable of on inline skates. Delivering outstanding performance and unmatched comfort, the Swell Black 100 is based on the renowned Swell collection of inline fitness skates, with a boot that incorporates MyFit's patented 3DAP technology from MyFit that's constructed from casted polyurethane (PU) that molds perfectly around your foot to deliver a level of control and comfort never experienced before on inline skates. The Swell Black 100 includes the famous Trinity 3-point mounting system from Powerslide. The Trinity system provides a low center of gravity that gives you excellent stability and improved power transfer to the Elite AL cast frames. Riding on high-performance PS 100mm wheels and WICKED free spinning ABEC 7 bearings, you get a fast, smooth ride every time. And, complete with a HABS brake, this is a fast, high-performance, and safety-focused fitness skate that's ready for intense workouts.
FEATURES:
- Boot Overview: Hybrid composite boot; hand lasted; Trinity X 3-point mounting; built in liner with 3D Adapt padding made of casted polyurethane (PU); not heat moldable
- Frame Overview: Powerslide Elite; ADC10 aluminum; Trinity 3-point mounting; 9.8" (250mm); 3x100mm
- Wheel Overview: Powerslide Swell; 100mm / 83A; HR = High Rebound, Cruising Comfort
- Bearing Overview: Wicked; ABEC 7; chrome steel
- Brake Compatibility: HABS Brake S/M
PLEASE MEASURE YOUR FEET BEFORE YOU PLACE YOUR ORDER. ALL SKATE SIZING CHARTS ARE DIFFERENT AND MOST SKATE SIZING DOES NOT ALIGN WITH STANDARD US SHOE SIZING. EXCHANGES AND RETURNS ARE NOT FREE.